Awesome Club Field Day – Saturday 22nd Dec
A good turn out today from the club and we had as many as 15 people turn out. We met at the club hive in Onematua Road and inspected through both the existing club hive and the new club hive that we built out of a swarm the other day. Both looked pretty good and we did a bit of maintenance, cleaning up comb and moving a few things around.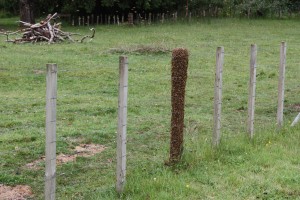 We then had the chance opportunity to catch a swarm which was at David & Suzannes place down Omaki Road. The swarm had happened just before the club meeting time of 11am, and we went back to the swarm and it had wrapped itself around a post about 5 metres from the existing hive, quite convenient that this happened on a Field Day. We caught the swarm with Kens help and put it in a box..pictures on the gallery page.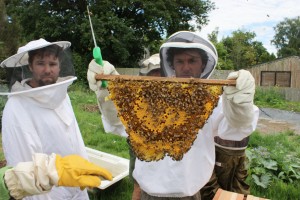 From there we went to Jerome's place to check on his Top Bar hive. It was very impressive and going exceptionally well. We checked on Sally & Mark's hive next door and that is about the strongest hive we have in our village at present and with 2 brood boxes there were about 3 supers filling up fast. More images in our galleries..